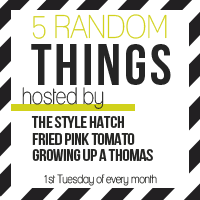 Today I discovered 5 Random Things from a blog I follow and I decided to join in the fun!
My food cannot touch! Mainly just sauces running and hot/cold items mixing. Sounds weird but it really freaks me out. My family laughs about it and as a joke a few Christmases ago my mom bought me a cafeteria tray which I used a couple of times :)
It takes me FOREVER to make an online purchase. I'm not sure why, if I'm in my favorite store TARGET I swipe away but, there is something about the freedom of research online that delays the process.
I crave Mexican food 24-7! I have always loved Mexican food, now that I am pregnant it has become a staple in my diet.
Chipped nail polish irritates me! My mom used to do nails and I spent a lot of time (by choice, practically begging) watching her during her appointments. I have the BEST picture of myself painting my nails in my high chair with non-toxic polish. Needless to say my nails are usually in excellent condition.
Christmas is my favorite holiday. I love decorating, eating all the delicious foods associated with Christmas, spending time with family and reminding other of the true reason for the season, Jesus' birth! Sometimes I wish it was Christmas all year long!