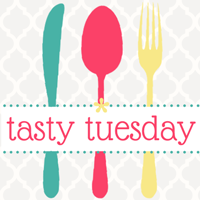 I am beyond excited about todays link up with Tiffany @ The Momma Bear Diaries for
Tasty Tuesday
. I love to cook but spend so much time trying to figure out what to make nightly that I end up making the same things over and over again. I defrost meat and then make whats quick or my few go to meals. Menu planning is such a wonderful idea! I have like 100 recipes just waiting to be cooked on Pinterest all of which are easy. So this week I'm cooking what I already shopped for and here is what the week looks like....
Tuesday: Tacos w/Mexican rice & salad
Wednesday: Free night going to a bday party!!
Thursday: Sesame Chicken w/white rice & salad
Friday: Turkey burgers w/fries
Saturday: Tilapia w/rosemary potatoes & asparagus
Sunday: Beef Stew w/salad
Monday: Puerto Rican chicken w/rice & beans
Ok time to defrost the meat for tonight!!