I'm linking up with Marie again for her Thankful Thursday series. This week is all about the event I am most thankful for. Super easy and I am sure that most of you can guess it!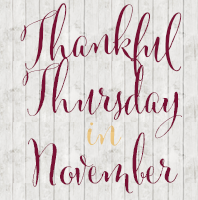 My wedding day held the title of best day of my life for 3 years it a day that I will never forget. It was the first day of my new life as a married woman. 8 months ago my wedding day took a backseat when M entered this world. We chose to keep our birth intimate just between the two of us, in doing so we learned so much more about one another, and fell in love all over again when we saw our baby boy for the first time.
He has shook my world up like a snow globe, I watch in pure amazement as he grows daily and makes me smile and cry tears of joy often. I love being a mother, his mother. He has taught me how to be more patient, to slow down and that sometimes the best thought out plans get executed totally different than expected.
I am so excited for all the future events and memories our little family will have together, it all started with this one BIG event :)