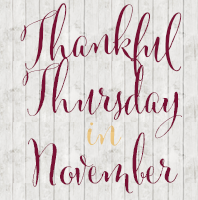 November is a month spent
intentionally
reflecting on all that you are thankful for. When I saw
Marie's
post about this linkup I knew I was in! For the next 3 weeks I will be joining her in sharing who, when, and what I am most thankful for. This week is all about the place...
I am thankful for my house, no scratch that my home. House hunting was an extremely stressful process and it seemed like it would take forever to sign that last paper that would make our house officially ours. It is an older home on a quiet street, older therefore means things were not updated except our appliances which was such a huge blessing they are expensive!!
We have spent the last two years making this house feel more like our home. It is certainly not perfect and there are several unfinished projects which allows us to change our minds often and find what we love most to complete a particular space. There is room to grow but it's so big to feel that we feel like strangers lost in the space. I am so thankful that we have a place to call our own and do what we want with.
What is the place you are most thankful for? Link up!
If you get a chance stop by the Mom-Lovin' link up too, I love this link-up and meeting so many other amazing mama's!