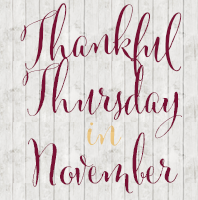 November is a month spent
intentionally
reflecting on all that you are thankful for. When I saw
Marie's
post about this linkup I knew I was in! For the next 4 weeks I will be joining her in sharing who, when, and what I am most thankful for. This week is all about the who...
I thought for sure the answer to this question would be my son. Now hold on hear me out, I am so thankful for M, but there is no way he would be here if it weren't for my husband. He is my best friend, my life partner, my soul mate the love of my life. He is my number one fan, he has seen me at my worst and and my best. He is so very kind and encouraging never crushing a dream that I have, instead he finds ways to make it happen. He works so hard for out little family so I can stay at home and raise our son. The sacrifice that he makes picking up and overtime shift weekly is one that I am so grateful for. He strives to be better in life never happy with just being mediocre and that is something that I love about him. He is a go getter for sure!
This year I have watched him become a father and have fallen in love all over again. I always knew he would be a great father but never imagined it would be like this. He used a couple hours of FMLA a week to come home early to spend time with M, he has stayed up with me on rough nights when M wouldn't sleep. He has changed countless amouts of diapers without complaining and even washed a few loads of cloth diapers :) I have never once questioned his abilities to parent, I trust him, value and respect his opinion.
I am so thankful and blessed for the man I share my life with, the man who made me a mother which in itself is the best gift he has ever given me. Before we got married out Pastors told us that you don't marry someone that you could live with, you marry someone you could not live without. I can honestly say that I could not live without him!

So who is the person you are most thankful for?