It's been a few weeks since my last post and oh my were they busy!! What better way to play catch up than a 5 on Friday.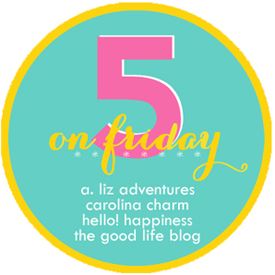 | one | M turned ONE! I am no longer in denial
or moping
that he is growing up. As sad as it is to me that these days, weeks, months and now year fly by I really love watching him learn and grow everyday.
| two | Last weekend we had M's pirate birthday party. [I am not cut out for the party planning business. I am relieved that it is behind us, lots and lots of planning and preparation.] He loved it, mission accomplished! Usually he is my sidekick and clings to me when lots of people are around not on his party. I barely held him and everyone else got to enjoy spending some time with the birthday boy.
| three | After all the festivities, literally that night, little man got sick :( He was down for 4 days with cold and lingering fever. Thankfully he was all better by his birthday!
| four | Little People toys are amazing! I am so impressed by them and M approves. He has a tiny village of them in the making.
| five | I started reading the Divergent series and when I say that I mean I am almost done with book 3. I love this series. I am super excited to go see the move sometime this month or early next month with my sister in law!! Any suggestions for a new series or a great book?
Baby boy is up from him nap so this is a primarily photo-less post. But I can't go
another
day without posting!!
Happy Friday have a beautiful weekend :)